So there David (not only The Wonderful Husband but The Master Chef), Bernardo (our New Orleanian harpsichordist houseguest) and I were, cooking and cleaning for the Dinner Group to arrive at 6. Arrive they did, and since Bernardo was a guest,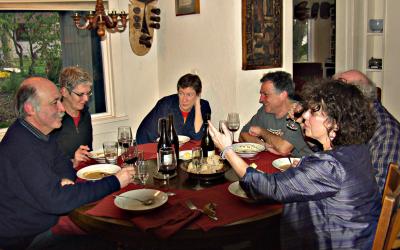 folks reminisced a little about the history of the group.
They've been meeting about once a month for 20 years. We've (I joined when I started dating The Wonderful Husband) help marry each other, bury parents, clear fallen trees, change jobs: in sickness and in health, for better and for worse. And celebrate it all with ambrosial food and aged wine.