The Wonderful Husband received an generous gift from a landscape design client several months ago: 6 bags of aged, weed-free steer manure. Wow.

A gift, you ask?

Well, yes, in the right context ;-)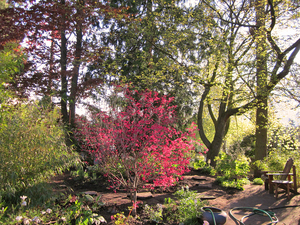 Several weeks ago David and I were happily putzing in the garden. One thing led to another, and in two shakes of a mockingbird's tail (as Mama used to say) we were digging in the front and creating a real garden there for the first time. We transplanted hellebores, violets, and maples from the back garden and, along with still-potted plants David had collected over the years, created a lush new landscape.

What a gorgeous garden we created! As I'm writing this, I'm looking out on a lushness of blossoms: crimson rhodies and azaleas, creamy dogwoods, chartreuse hellebores, purple labrador violets.

We mixed said manure in all the new beds. I've never used bagged manure in a garden, and I was surprised to see and smell how, er, recognizable it was.

As I was digging, I remembered a client many years ago in Big Change. Elaine was a gardener, too, and we played with metaphors from nature to help ground her grief and deepen her trust in the cycles of death and rebirth in nature and in life.

One week Elaine came in all smiles, a miracle given the depth of her losses. "Melissa," she grinned, "I've found the key!"

"Oh yes?" I responded. I've always joked with clients that if they find the key to an effortless life transition, I'll go into business with them and we'll rake in millions.
"Yes, a mantra that when repeated with enough heart and awakeness, will transform anyone's experience of Big Change." I wondered if she had spent the weekend with a guru or had found her Happy Place.
Nope, she said: she had spent the weekend gardening. Now she really had my attention.
Elaine settled herself, closed her eyes, folded her hands in her lap, and took several deep slows breaths.
"
No s***, no flowers.
" Long, slow breath. "
No s***, no flowers.
" Long, slow breath. "
No s***, no flowers...
"  
Elaine actually worked with her phrase as a sort of mantra through months of deep grief and unknowing. It helped her remember that it is only through the composting of losses that new life flourishes.
No s***, no flowers
.
Elaine's mantra stayed with me after my own mom died. It was one of those horrendous times when everything fell away: in an 18 month period, both parents died, my daughter left home, Katrina practically destroyed my homeland, menopause barrelled in, and I was blindsided with an autoimmune disorder that left me chronically exhausted.
Plenty of manure. Steaming heaps of it.
I grieved, I raged, I anxietied, I despaired. All of which seemed would never end (which is how the Loss and Wilderness phases of a big transition feel, no matter what).
I adopted Elaine's special mantra.
No s***, no flowers
, I reminded myself.
No s***, no flowers
... I sat in our garden and contemplated our compost piles: the new one, chock with eggshells, corncobs, twigs and leaves. The old one, ready to be turned over in the garden: dark, crumbly, unbelievably fertile.
Hard to believe that gorgeous compost was once the garbage pile. And yet, there's the alchemical mystery of transformation: that which is rejected, properly composted, becomes that which fosters life.
No s***, no flowers. And — contrary to my fear that I'd be the first in history for whom this proved untrue — my aching losses finally composted into new joy, deeper faith in Spirit, and fertile trust in Mystery, and life itself.
This alchemical truth is so easy to remember when times are good. It's almost impossible to believe when they're tough. That's why we need others to help us through, faithful gardeners of the soul who can tend us through that alchemy of transformation.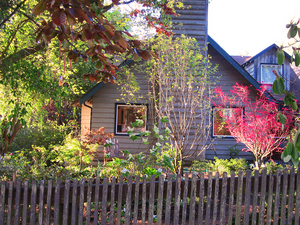 Two days ago David and I headed to Northwest Nurseries, where he buys plants at wholesale since he's a landscape designer (
www.DistinctiveGardens.net
). I'm looking out at a waiting throng of 4 inch and one gallon pots and several bags of new compost.
Can't wait to get wrist deep in all that lush fertility.
Join me?