So there David (not only The Wonderful Husband but The Master Chef), Bernardo (our New Orleanian harpsichordist houseguest) and I were, cooking and cleaning for the Dinner Group to arrive at 6. Arrive they did, and since Bernardo was a guest,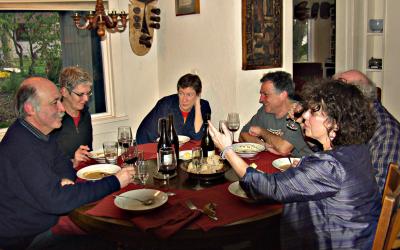 folks reminisced a little about the history of the group.
They've been meeting about once a month for 20 years. We've (I joined when I started dating The Wonderful Husband) help marry each other, bury parents, clear fallen trees, change jobs: in sickness and in health, for better and for worse. And celebrate it all with ambrosial food and aged wine.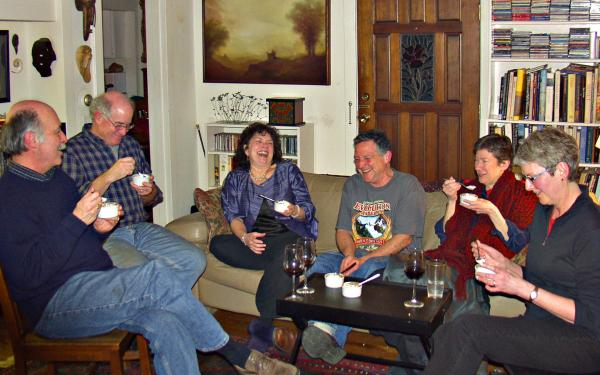 I adore this group. Basking there, in all the evening's love and laughter, I realized how much we need each other.

And I realized, with my heart bursting its 54 year old seams, how much during these wild times I need my dear friends, my family, my husband and daughter, my neighbors.
 
Sisters, ain't no way you'll hear me saying this economic debacle is a good thing.
What I am saying, though, is that a great gift has emerged from it: truly fathoming how much we need the shelter of each other. (Of course, us gals over 45 know this to the tips of our sometimes-manicured toes. Who among us could have raised kids, endured breakups, celebrated graduations, and survived empty nests, without the welcoming shelter of others?)
The grace of this painful time can bring our sweet souls back to this essential shelter: receiving it from others, and offering it as well (methinks they're intimately connected, like the inbreath and the outbreath: cain't do one without the other).
Sisters, I woke up the morning after dinner group with this singing in my split-wide heart:  We are each others' greatest wealth.
And so, in the spirit of this boundless wealth, I queried girlfriends about what "the shelter of each other means" during these wild times. Here's what the wonderful girlfriends have to share (and their emails, if you want to respond directly to them):
Mary Ellen Johnson (maryellenj@earthlink.net): "I think about the shelter of each other in 2 ways:
1. Sheltering: I've got 4 unemployed friends, and my life is in a good place. So I call them up periodically, and check in on them. If they've been home too long, I get them out of the house and buy them lunch. I lovingly remind them that life goes on.
2. Being sheltered: One of the hardest lessons for us to learn is to let others love us when we're feeling awful and vulnerable. So if someone calls you and asks you to lunch, take a shower and put on a clean shirt. Just say yes and get your ass out the door.
You see, the most important thing we can do for one another is to keep reminding each other of the truth: that life goes on, and tough times are just the middle of the story. That means if times are tough, it's not the end of your story, because things always turn out OK in the end.
I learned from walking marathons that every heroic story has a way-low moment. That's when you change your shoes, you change your music, you change your mind, and you just keep going. Sometimes you need someone else to remind you of this, and change your shoes and your music."
Barbara Fischer (bjfisch@mindspring.com): "When I got so sick, my husband Karl insisted on doing all the care for me himself. When someone asked him if they could help, he said "No thanks, I'm fine." Finally I said to Karl, "STOP. When someone offers you help, just say 'THANK YOU.'" People came out of the woodwork to help, a wealth of talent and love and goodwill.
You gotta be willing for people to love you. What I've learned from a lifetime of giving, and now all this receiving, is that to be able to give and receive is to be rewoven into life, to be part of The Big Family, All Our Relations. To say Yes to the shelter of each other takes away our fear, our shame, our smallness. It allows us to finally relax into the gratuity and the graciousness of this world, and this life.
It's not about 'deserving.' It's about belonging. You know you're part of the web of life, the stream. We give, and we receive; we're all doing our little part in this.
We're all connected, whether we like it or not. Saying an open-hearted Yes to that connection shifts your head and heart and body, and heals you into life.
It's not about merit. It's about belonging." 
And, finally, Molly Gordon's (molly@authenticpromotion.com) reworking of Marianne Williamson's gorgeous piece (if you don't know it, or want to roll again in its utterly wild lusciousness, I've included it at the end of the newsletter as the Fabulous Flourishing Resource):
Our deepest fear is not that we are without resources.
Our deepest fear is that we are infinitely and completely supported.
It is our good fortune, not our lack of resources, that most frightens us.
We ask ourselves, Who am I to benefit from the work and support of others?
Actually, who are you to do it alone?
You are a child of God.
Pretending to be an only child or an orphan does not serve the world.
There is nothing enlightened about doing it all yourself so that other people won't envy or resent you.
We are all meant to shine, as children do.
We were born to make manifest the glory of God that is within us.
And to shine in that way requires that we open our minds and hearts to infinite Love,
Love that is made manifest in the kindness of strangers, the support of friends,
and the brilliance of those who have gone before us.
It's not just in some of us; it's in everyone.
And as we allow others to help our own light shine,
we unconsciously give other people permission to do the same.


Me again: thank you, wonderful girlfriends!
So there you have it, sisters. Let's change each others' shoes. Let's say Yes to the love manifest in the kindness of strangers and the support of friends.
And let's remember it's not about deserving. It's about Belonging.